ABCN welcomed 35 of the 42 Year 11 Accelerate Scholars and their mentors from all over Australia face-to-face in Sydney in late April. Our thanks to the scholars and their mentors, schools, parents, ABCN member companies and ABCN staff who went above and beyond to create a memorable and smooth-running event.
Activities included a workshop at the Australian Theatre for Young People (ATYP), a harbourside walk, and a formal dinner at Macquarie Group in Martin Place. The finale was at Commonwealth Bank's site 'The Foundry' at South Eveleigh, where ABCN's Head of Program Development Maree Drury workshopped Financial Capability and keynote speaker Craig Griffin, Head of BFS Marketing & Growth at Macquarie Group, shared an insightful and engaging presentation on leadership skills.
TAL Australia stepped up to host our remote WA contingent in Perth who unfortunately were unable to leave the state due to COVID restrictions.
ABCN chair Tony Macvean welcomed the scholars and 80 representatives from companies and schools at the ABCN Leadership Dinner, commending the students and the many people in the ABCN network who are committed to helping the students to realise their educational and career dreams.
'What we do at ABCN is create partnerships between businesses and schools to address educational disadvantage,' Tony said. 'Our programs have had a profound impact on countless students and mentors.'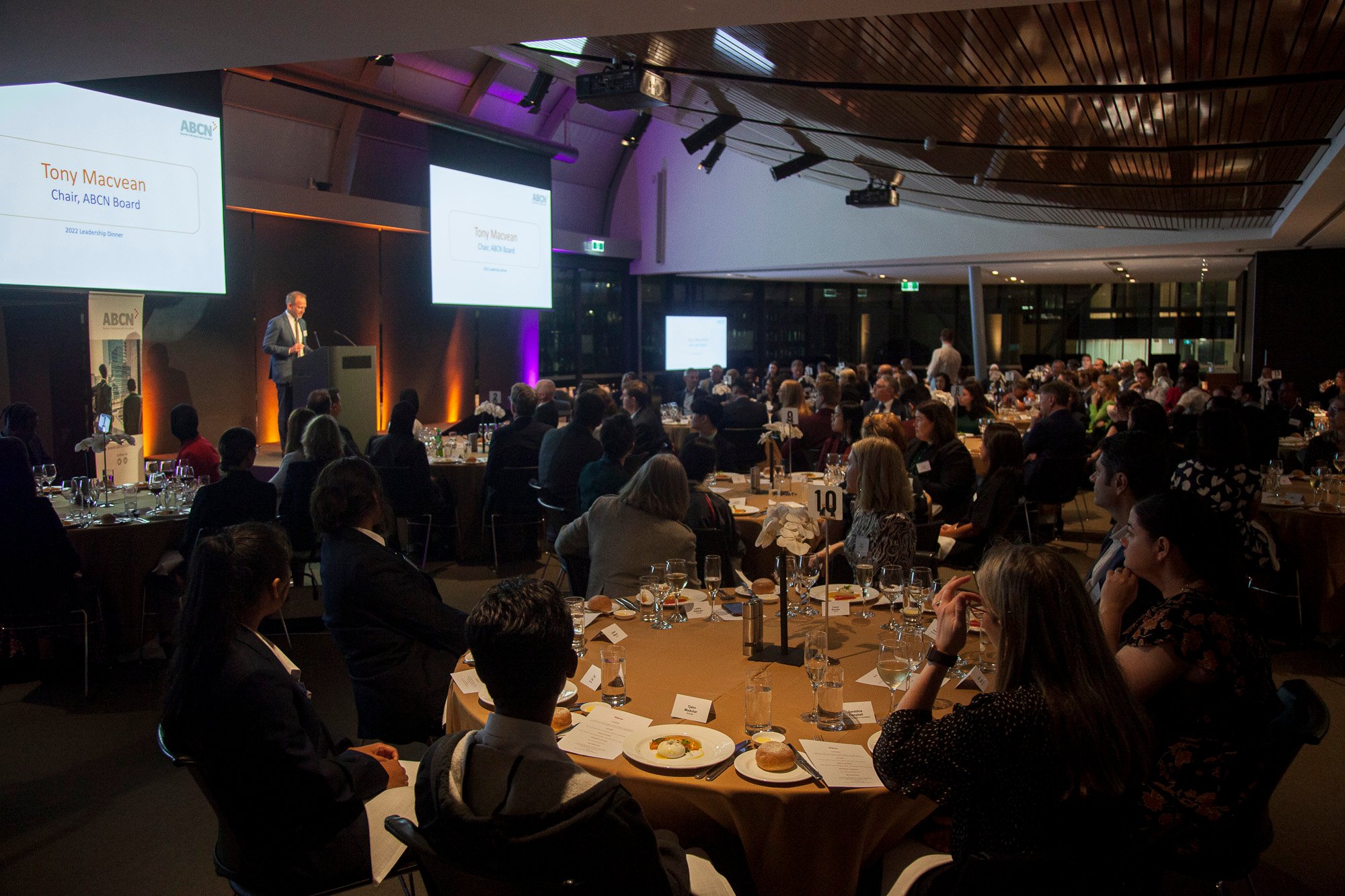 The event encapsulated ABCN's purpose of bringing businesses and schools together to help young Australians reach their full potential.
'Business has an important social responsibility to try to mend that gap,' said Michael Hawker AM, Chair of the ABCN Foundation. He told the scholars to 'find a job you love because you will out-perform anybody who doesn't like the job'.
It has been the students who best summed up the value of the ABCN network and the ABCN Leadership Dinner and Summit. Here are some of their comments:
'It was an overall great opportunity that allowed me to meet new people and experience things that I would not have ever thought of doing without the help of ABCN.' Ekacia, South Australia
'Thanks for organising such an amazing two days. I had the time of my life, met so many new people and made so many great friends and connections.' Liam, NSW
'ABCN has given me the opportunity to achieve my goals through mentoring and support. It's a platform to make sure that many more young people who identify similarly to me see someone who is kicking goals, which they can achieve and go beyond.' Danya, Victoria
'This challenges conventional thinking of leadership summits as it doesn't pressure you and allows you to actually enjoy learning. It's a fun experience to learn about and from other like-minded scholars, mentors and corporate people about their life and professional experiences.' Sughra, NSW
'It has been a spectacular experience full of meeting new people and learning things and gaining insight unattainable elsewhere.' Lily, NSW
'This has been an incredible two days. I have learned so much and had so much fun with the other students and my mentor.' Billy, Qld
You can find out more about the ABCN Leadership Dinner in this video on our LinkedIn page