Information for School Champions
The ABCN School Champion is ABCN's first point of contact at the school for all program–specific queries. Champions are typically the primary coordinators of one or more ABCN program within the school and are responsible for managing the partnership. Selection to the role is generally done by the school Principal or school leadership team representative.
An ideal Champion is passionate about exposing students to additional opportunities, is organised, and has relationships across the school. Champions will be working with one or more ABCN program managers to make their programs a success.
Key aspects of the role include: 
Liaison with ABCN:  
Work with ABCN program manager(s) to coordinate ABCN programs based on school requirements.
Ensure space at the school for ABCN sessions (when required)
Accompany students to ABCN member company offices (when required)
Accompany students during ABCN digital programs at the school (when required)
Provide timely and accurate student information and school release forms to the ABCN program manager.
Student recruitment, care and communication: 
Recruit students to participate in ABCN programs
Serve as the main point of contact for duty of care responsibilities for students
Provide students with relevant program information including session dates and relevant travel arrangements
Arrange for students to be briefed on school and ABCN expectations prior to the program.
Promotion and communication: 
Create excitement and support for ABCN programs
Share the vision, values, and purpose of ABCN within the school
Promote the benefits of students' participation in ABCN programs, within the school and the broader school community.
Resources: 
School Champion Toolkit: Read Now
---
Our member companies support students and schools in a wide variety of ways (in addition to providing volunteer mentors through ABCN). Here are some valuable resources from some of our member companies.
Skills and Careers
Sydney traineeship program: JP Morgan offers a two-year traineeship program for high school graduates wanting to work in the financial services industry. Find out more here.
Digital literacy resources: Optus has a Digital Thumbprint program that includes five curriculum-linked lessons, ideal for boosting students' digital literacy during remote learning. Teachers can register Years 7-8 classes for digital workshops covering topics such as cyber-security and cyberbullying. There are also useful resources for parents and carers.
Tech careers program: CommBank's free Careers in Tech online learning program shows students what a career in technology might look like with CommBank. The self-paced program includes modules on cybersecurity, artificial intelligence, website planning and digital forensics, demonstrating a wide variety of tasks in the field of technology and innovation. Click here to access the program.
Economics education: UBS has converted its annual HSC Economics Day to a virtual event that features video presentations from Australia's leading economists, economics editors, strategists and professors. Students interested in pursuing studies in business or economics are invited to click here to register to access the content.
Job preparation program: Accenture's Skills to Succeed Academy is a free, online learning program that aims to build crucial skills and confidence of students in Years 9–12 to prepare them for the world of work. Students choose from 36 interactive modules, including resume building, interview preparation and how to nail your first day at a new job. Click here to learn more about Skills to Succeed, and to find the access code for the program.
CEO career talk: ABCN has invited many of our member companies to participate in career talks through our Q&A-style program, My Career Rules. Listen to ex-CEO of CSR, Rob Sindel, answer student questions about his career here.
Tech Pathways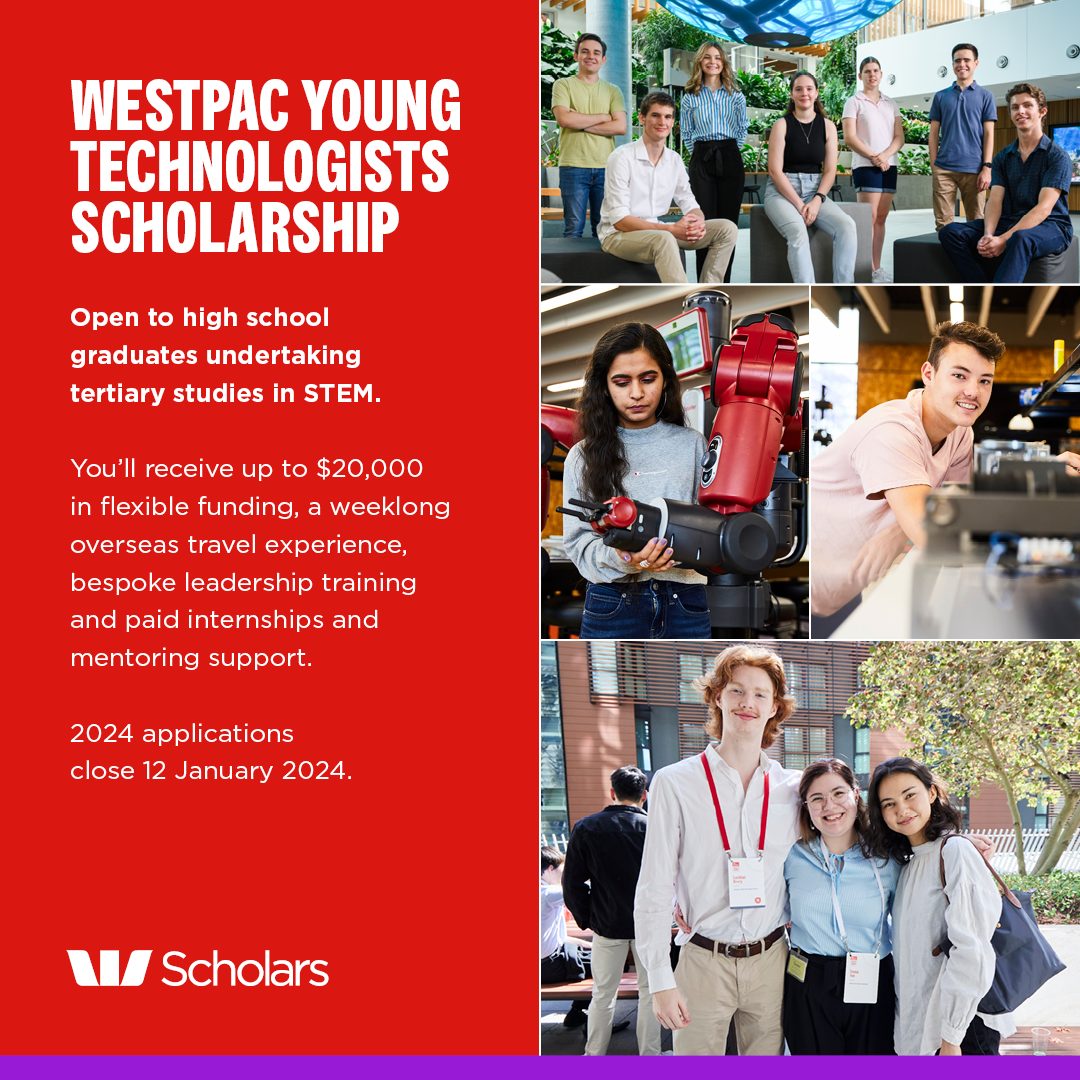 Power your passion and take your STEM studies to the next level. 
The Westpac Young Technologists Scholarship was made for talented and inquisitive high school graduates looking to strengthen their passion and expertise in technology to innovate and create new opportunities and inspire good in the world of STEM. 
If you're graduating high school and thinking about undertaking further studies in STEM, apply for our Westpac Young Technologists Scholarship.
You could receive:
up to $20,000 to support for your studies

bespoke leadership training

a weeklong overseas travel experience

paid internships and mentoring support
Leadership
ABCN webinar: Steven Worrall, Managing Director of Microsoft Australia, and Anne-Maree Crivelli, Principal of Glenroy College, join Allegra Spender to discuss how they are managing change in their organisations and personally. Click here to download the audio recording.
Wellbeing
ABCN webinar: Watch as our CEO Allegra Spender is joined by Glenn Baird, Head of Mental Health at TAL, Petrina Felix-Tolhurst, Executive Manager of Business Enablement at IAG, and Beth Godwin, Principal of Cabramatta High School, for a frank discussion about mental health, managing stress, and looking out for the wellbeing of others. Click here to download the audio recording.
Download: Here's a simple five-page pack of resources for managing mental health and wellbeing in the workplace.
Online resources: ReachOut has some great classroom resources (thanks, Stockland, for suggesting we connect with them). They include tips for teacher wellbeing and supporting students, such as quick 'Wellbeing Fives' activities. R U OK? also has a wealth of educator resources here.