In 2010, Jennifer Truong from Cabramatta High School was the recipient of the KPMG and ABCN Doug Jukes Memorial Scholarship – the framework of which was to inspire the launch of ABCN's Scholarship Foundation three years later.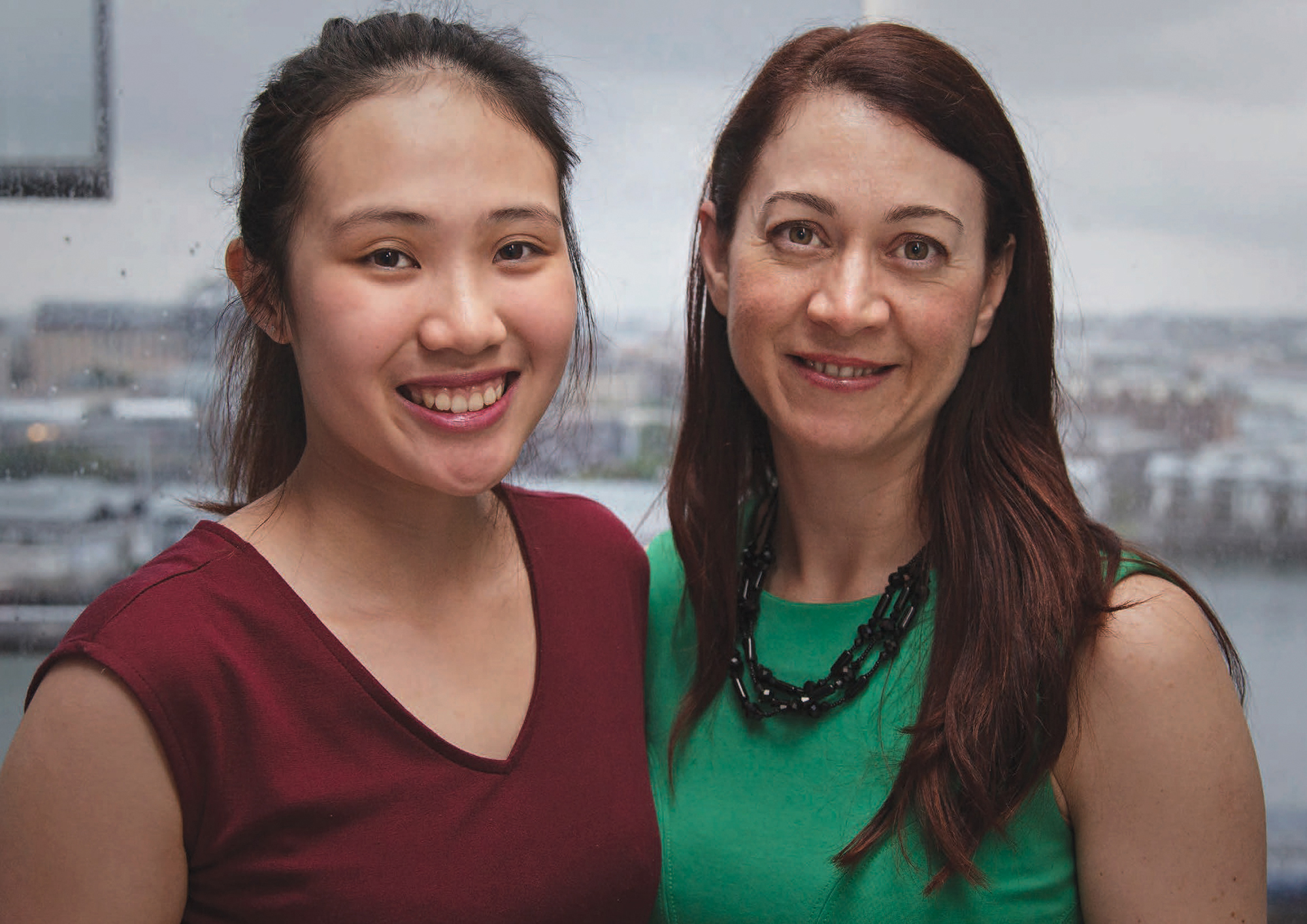 Although initially a three-year mentoring commitment, Jennifer has been mentored by Carolyn Ralph from KPMG now for six years. During this time, she completed her HSC, enrolled at UNSW and will soon graduate with a Bachelor of Science/Education. We caught up with Jennifer and Carolyn recently to talk to about the impact of the scholarship and the difference the mentoring relationship has made to both of them.
Jennifer, how big a part did winning the Doug Jukes Memorial Scholarship play in your ability to complete school and go on to tertiary study?
Winning the first Doug Jukes Memorial Scholarship was a miracle. To think that I would be chosen from a national selecting pool was insane. The scholarship gave me the courage to give things a go. It was also a massive help during my last year of studying, especially where money was low at home.
Carolyn, had you previously been involved with ABCN as a mentor before? What attracted you to becoming involved in this program?
First and foremost Doug Jukes was an inspirational Partner at KPMG, boldly defining our identity as a corporate citizen.  I jumped at the chance to represent his legacy by mentoring a winning student of his scholarship.
The attraction of this particular mentoring program was a combination of the calibre of candidates and the conditions of commitment to the program.  ABCN use a balanced and sensitive hand to identify candidates who most need and deserve the scholarships.  The eventual winners are exceptional individuals with sometimes unbelievable challenges to address in their short lives to date.  Committing to the mentees under this program is a three-year investment, over the critical final two years in high school and transition year to university.  Jennifer and I have broken the rules and six years later we're still in constant contact.
Jennifer, what have been the key learnings for you along the way and was this a surprise? How has this impacted on you personally?
Carolyn showed me that life is forever changing. There are new experiences every day, and you are never too old or unskilled to try something new. This may seem like common sense, but when you're a teenager leaving school and forced to face the world, that knowledge depletes. Thanks to Carolyn, I was able to discover certain aspects of myself that I never considered as positive characteristics. Her achievements in life, both in her work life and personal life inspire me.
Carolyn, how would you describe the mentoring experience? Has it made a difference to you professionally and would you recommend mentoring to others?
Jennifer is an exceptional individual who will contribute enormously to Australia's prosperity.  She is close to being a qualified maths teacher who will soon shape the future of our next generation.  Mentoring Jennifer is not a job, or a tick-the-box exercise to confirm I am 'giving back' – it is a privilege.  Jennifer reminds me there is more….more perspectives, more flavours, more passion…and always room for more dessert!
Our mentoring experience has included sharing a few firsts for Jennifer, including high-tea and various foreign foods, along with supporting her in making decisions about switching degrees at uni, travelling without her family, and her maturing relationships. Assuming she still thinks I have more to offer, I will be active in her life for years to come. I unreservedly recommend mentoring to others.
Jennifer, what are your goals now for the future? Do you see yourself as a role model for others within your community or other young female students facing disadvantage?
I am planning to successfully finish my Bachelor of Science/Education at UNSW. I want to start working at a high school as soon as I can, casual or full time. I think teachers have the most amazing power to inspire a broad range of young female and male students – to encourage them and show them that whatever their dreams might be, they can achieve it. I'm not sure if I'll be a great role model, but with Carolyn's help, I'll get back on track.
This year marks ABCN's 10-year anniversary. Our initial involvement with KPMG's Doug Jukes Memorial Scholarship inspired the ABCN Scholarship Foundation in 2013 – which by the end of 2015, will have enabled 41 disadvantaged students to benefit from mentoring support and financial assistance. With your help we can look forward to working with more and more remarkable students, just like Jennifer, to help them reach their potential.
If you would like to support our 10-year anniversary Scholarship Foundation campaign, visit here.