This year, 39 deserving young students will receive scholarships through the Australian Business and Community Network (ABCN) 2023 Accelerate scholarship program.
Accelerate is a three-year scholarship for students who are exceptional yet who face significant barriers. Successful applicants receive a unique combination of one-on-one corporate mentoring support, leadership coaching and financial assistance over Years 11, 12 and their first year of tertiary studies, employment or training.
This year, there were a record 303 applicants from 96 different schools in low socio-economic status communities around Australia – an increase of more than 50 per cent from last year. Applications from rural, regional and remote areas continue to rise, having tripled in the last five years – they now account for more than a quarter of total applications. First Nations applications accounted for 11 per cent of the total – a small increase from last year but nearly double the year before. And this year, 15 per cent of the applications were from refugees.
One successful applicant was Tuyet, from Birrong Girls High School. In Tuyet's stirring essay she detailed her childhood with poetic flourish describing growing up in close quarters as a family of eight in a house that also served as a clothing factory owned by her mother: 'Echoing within the walls of a small house are the sounds of a sewing machine, harmonising with the subtle ripples of laughter across the landscape of shared rooms.'
Life changed significantly for Tuyet and her family in 2010, when one of her six brothers was involved in a serious car accident. The resulting constant struggle of paying the medical and business bills forced her mother into bankruptcy.
Despite her family facing all kinds of hardship, Tuyet still has a goal of getting into medicine or healthcare. 'This scholarship is more than just financial support – it represents an opportunity to better myself and the community I hope to serve as a productive citizen armed with the power that only education can provide,' she says.
'It will alleviate the pressure and stress of educational expenses on me and my family allowing me to remain focused on my academic and personal growth whilst providing financial support.'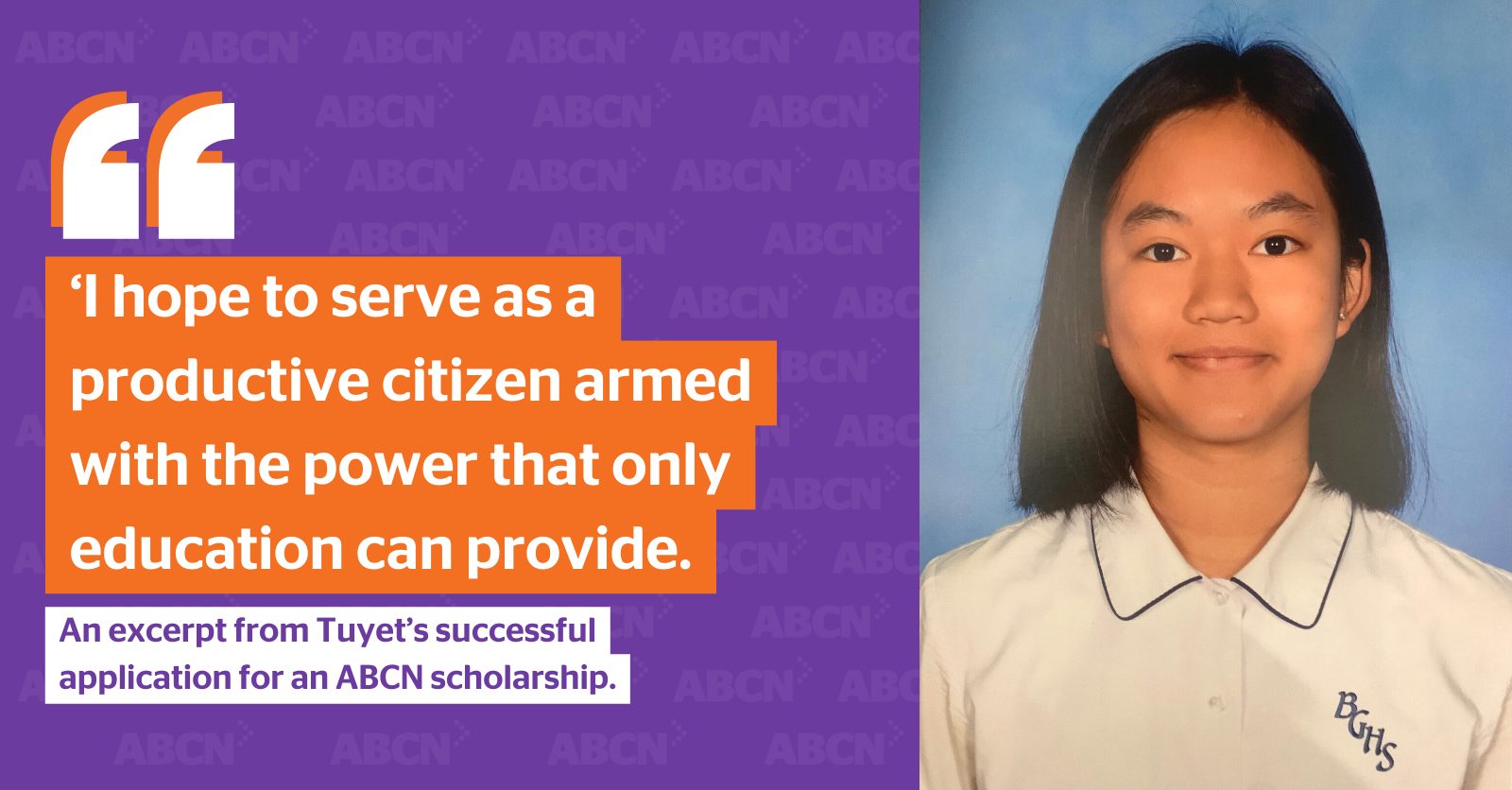 Her school principal says, 'Tuyet is a consistent academic performer who is recognised as a student leader of the highest quality and models the qualities of respect, integrity, inclusivity and equity in her interactions with staff, peers and the wider community. The ultimate optimist, Tuyet has experienced collective trauma and adversity alongside her large family that has impacted significantly on her domestic conditions and magnified the levels of stress she has had to carry.'
'The ABCN scholarship will provide Tuyet with the guidance and support she both craves and deserves. I am confident that it will sharpen her focus, capacity to achieve and her overall outcomes in her final secondary years and most importantly, in the tertiary setting.  I am certain that Tuyet will translate the opportunities this scholarship offers into tangible and ongoing results.'
'This year's scholarship winners are an inspiring group of students from across Australia with an incredibly diverse range of circumstances and backgrounds with many having faced significant barriers and challenges in life,' says Phil Gardner, ABCN CEO. 'What they all have in common is that they exhibit enormous potential that the scholarship will help them realise. It is a very moving and uplifting experience to contribute to their lives that we trust will enable them to achieve great things.'
Successful recipients will be honoured at events in each state in November and December and will begin their scholarships when they start Year 11 in 2023 concluding in December 2026. ABCN scholarships are wholly reliant on funding from the corporate sector, philanthropic foundations and generous individuals.