Confidence in talking about the sensitive subject of money is a key objective of a new financial capability module that ABCN is starting to integrate in its innovative mentoring programs.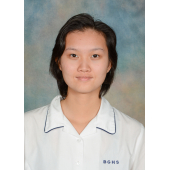 It was in the middle of a ABCN mentoring program earlier this year that Angela, a Birrong Girls High School student in southwest Sydney, discovered that she was entitled to a pay rise when she turned 16. So, she plucked up the courage to raise the topic at the chemist where she worked part-time.
'At first I was scared to talk to my manager about my pay,' she said. 'The program raised the idea that women should be confident about money. So I went face to face to my manager to discuss the matter, showing respect to get the result that I wanted. I stood clearly, and my gestures and the way I spoke was more confident.'
Confidence in talking about the sensitive subject of money is a key objective of a new financial capability module that ABCN is starting to integrate in its mentoring programs. During the sessions, volunteer mentors from ABCN's member companies share personal stories of how they've handled difficult situations involving money, to inspire students to discuss the subject with their friends, family and in work situations.
85% of students improve
A survey of 103 ABCN students who participated in pilot sessions found that 85% of them felt more comfortable holding conversations about money matters with others, compared with 44% at the beginning of the program.
It sure worked for Angela: she got her pay rise shortly after turning 16. She also applied for another job at a newsagent where she felt emboldened to quiz the surprised manager about pay rates.
ABCN has been trialling new approaches to financial education in its programs targeting senior high school student since last year. The pilot project is funded by a grant from Ecstra Foundation, whose work aims to build the financial wellbeing of all Australians, including through education. The ABCN and Ecstra partnership addresses the problem that young people from low socio-economic backgrounds perform poorly on financial capability measures.1
Life-changing skills
The content, created by ABCN, is not about providing financial advice; rather it is about developing the skills needed to negotiate a better deal, talk openly with family and friends about finances and set financial goals that align with personal strengths and values.
'These sorts of soft skills are as important as things like understanding compound interest, tax and superannuation,' said Peta Magick, ABCN's Head of Program Development.
'Educating young people about money through schools can help remove the secrecy and complexity around finance,' said Caroline Stewart, CEO of Ecstra Foundation. 'ABCN's mentors really help students understand the importance of learning about money, and how to make confident, informed choices which can have life-changing financial impacts for the students and their families.'
The partnership aims to develop the financial literacy skills of 1,000 students each year of the three-year project. So far, volunteer mentors from the likes of Chevron, CBA, EY, Hall & Wilcox, Macquarie, nBn, Optus, TAL and UBS have been involved in the mentoring programs, which are delivered online or face-to-face.
1 Thomson, S., De Bortoli, L., Underwood, C., & Schmid, M. (2020). PISA 2018: Financial Literacy in Australia. Australian Council for Educational Research. https://research.acer.edu.au/ozpisa/48
Read more stories here