We have a new application process for the 2023 Accelerate Scholarship Program 
The ABCN Scholarship Foundation has introduced a new three-step application process for Accelerate Scholarships in 2023.
The main difference from our previous application process is that students must now be nominated by their Principal or School as a first step of the application process.
Students cannot apply without being nominated by their Principal or School. The new process is outlined below and highlighted in the video above. 
'ABCN's ability to scale their highly valued and sought after Accelerate program has excellent potential working in partnership with its member companies and schools in both regional and metropolitan areas.'  Tim Lloyd, Principal of Plumpton High School
Important Dates for 2023
Applications Open – Monday 19 June
Applications Close – Friday 25 August @5pm
Principal's Notified of Outcomes – Friday 3 November
Download our 2023 Application Guidelines
Please Download our ABCN Accelerate Application Guide 2023 prior to beginning the application process.
If your school has not applied before and has not received the link to the nomination form or you have any questions about the updated three-step application process for the 2023 ABCN Accelerate Scholarship, please contact Linda Harkin, Program and Administration Coordinator at linda.harkin@abcn.com.au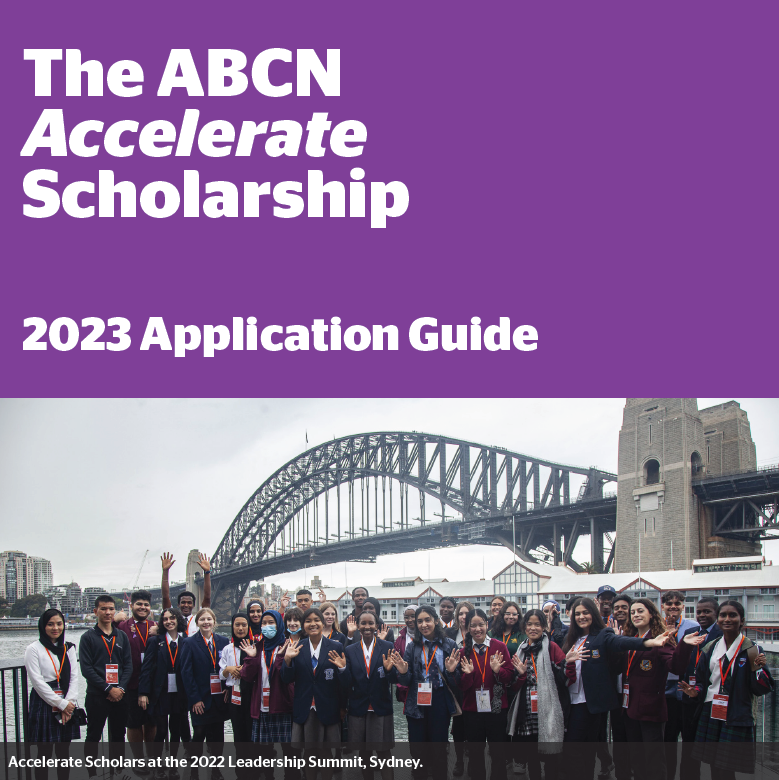 Would you like to know more about how the Acclerate Scholarships can help students? Read about our current and previous Scholars here
We are grateful to the following organisations that are sponsoring targeted scholarships this year:
First Nations students – with thanks to CBA, KPMG, Microsoft and Stockland
NESB (Non-English-speaking Background) refugee or new arrival to Australia – with thanks to Microsoft
WA – with thanks to the Fogarty Foundation and Stan Perron Charitable Foundation
NSW – with thanks to the James N. Kirby Foundation
Interested in pursuing a career in fashion, design, retail or marketing – with thanks to PVH
Our warmest appreciation also goes to TAL, the Bennelong Foundation, Anthony Costa Foundation, Be Kind Sydney, Carla Zampatti Foundation, Lord Mayor's Charitable Foundation through Eldon & Anne Foot Trust, Harold Mitchell Foundation, KPMG, Ventia, VGI Partners and James N Kirby Foundation for their generous support of our current scholarships, the Waratah Education Foundation for their support of the Highly Commended Awards and to KPMG for their pro bono support of the application process.